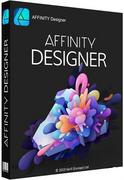 Serif Affinity Designer 1.7.2.471 RePack by KpoJIuK | 193MB
Affinity Designer is the fastest, most convenient and accurate software for vector graphic design in the modern market. All the functions, tools, panels and parameters of this application, which was created from scratch for more than five years, are designed taking into account the needs of specialists in creative professions. As a result of continuous innovation and improvement, a revolutionary application has been created that will change your approach to the workflow.
System requirements:
Operating system: x64 Windows 10, Windows 8.x, Windows 7 (Service Pack 1; with Aero mode enabled).
Processor: Intel 64 bit or higher Core 2 Duo (after 2007).
RAM: 2 GB (4 GB recommended).
Video card: compatible with DirectX 10 and higher.
Display: 1280 x 768 or higher.
Free space on hard disk: 670 Mb
Other features of Affinity Designer:
Layer effects. All traditional layer effects, including shadow, glow, outline, 3D, bevel, gradient blending and more.
Cross-platform (Windows, macOS). Affinity Designer is available for Windows and macOS and provides perfect file format compatibility. We are also working on an iPad version!
Customizable workspace. Choose a light or dark UI design theme, and work with fully customizable toolbars and other panels.
Resource management. A full-featured resource control panel allows you to create a gallery of objects organized into a folder structure, which provides instant access to them from projects of any type.
Multifunctional duplication. Easily duplicate objects and re-transform at the same time.
Fully customizable keyboard shortcuts. Improve productivity with an extensive library of keyboard shortcuts for tools, menu functions, views, and controls, all of which can be fully customized.
Rotate the canvas. Turn the page as if you are sketching on paper; it also provides the ability to display shortcuts for controls on graphic tablets or keyboard devices.
Vector brushes. Ability to overlay realistic textured strokes along vector paths.
The Transformation panel. You can change position, set dimensions, rotate and move an object due to full access to the relevant parameters.
Push Profile Editor. Add and modify a pressure profile curve along any path.
Adding noise. Add noise to the color fill to give a textured effect to your work.
Insert inside. Ease of adding artwork, objects, or brush strokes to an existing shape.
Distribution. Distribution of objects automatically or based on a user-defined interval.
Samples. The ability to create palettes with an unlimited number of colors for use during work, support for files with the .ase extension, Apple system palettes and much more.
Cancellation history with save function. The undo history can be saved with the document, so that all undo operations will be available to you whenever you return to your work.
Embedding and placing an artboard. Embed Affinity, PSD, or other types of files to simplify organizing large compositions.
Contour text. Enter text along any drawn path with full control of the start and end points.
Dynamic spell check. Spell checker instantly or on demand and fully customizable dictionary.
Intelligent color picker. A special tool for accurate color selection within a composition or any other open window.
Styles of text. With full support for text styles, you can combine the styles of text objects such as headings, subheadings, and text after the heading.
Global colors. Change basic colors and view all objects that use a specific color; all changes occur simultaneously.
New features in version 1.7:
Significant performance improvements for Mac, Windows, and iPad devices.
Pen and Dial support for Surface devices.
Support for monitors with HDR / EDR technology.
Creation and direct editing in any isometric plane.
Arrows!
A new transformation mode in the "Node" tool.
Select nodes using the lasso.
New mode for shaping the pencil.
Add unlimited strokes and fills to one shape.
New point transformation tool.
Multiple grid improvements, including a new cubic grid and column guides.
Multiple import and export improvements for the PSD format.
Updating the Studio "Layers".
Pixel mode now supports podcasts and symmetry mode (up to 32 lines).
Information about alternative conditions has been added to the document history.
Build Features:
Type: Installation
Languages: multi, there is Russian
Treatment: serial number
Command line parameters:
Quiet installation: / S / Q
Selecting the installation location: / D = PATH
Key / D = PATH should be indicated with the most recent
example: setup_file.exe / S / Q / D = C: \ MyProgram
DOWNLOAD
uploadgig
Contenido Oculto
Este foro requiere que este registrado e identificado para ver el contenido oculto.
rapidgator
Contenido Oculto
Este foro requiere que este registrado e identificado para ver el contenido oculto.
nitroflare
Contenido Oculto
Este foro requiere que este registrado e identificado para ver el contenido oculto.