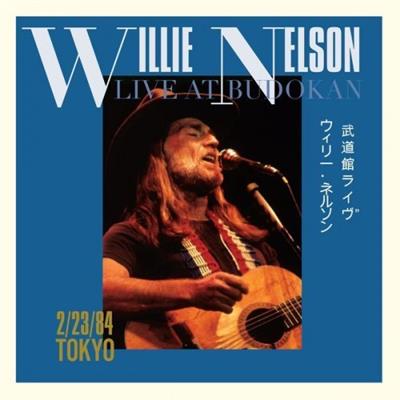 Willie Nelson - Live At Budokan (2022) MP3
Mp3 CBR 320 kbps (tracks) | Country, Folk, Singer-Songwriter | 01:30:29 | 212 MB
In 1984, Willie Nelson was at the height of his popularity, having racked up sixteen #1 country hits over the previous decade and crossing over to the pop charts multiple times, while starring in a series of hit movies and becoming one of the most recognized figures in popular culture. He united fans across genres and generations and his live shows had become legendary. In February of that year, he performed in Tokyo to kick off a five city tour that marked his first time playing in Japan, showing how global his appeal had become. The first shows were at the Budokan, the legendary martial arts hall and the February 23rd show was recorded and filmed for broadcast, eventually seeing release only as a laser disc in Japan. However the video was never seen anywhere else and the audio was never released at all... until now. The audio has been lovingly remixed by Willie's longtime band member Mickey Raphael and includes 29 songs across two CDs.
Tracklist
CD1
1. Whiskey River (Live at Budokan, Tokyo, Japan - Feb. 23, 1984) (3:13)
2. Mona Lisa (Live at Budokan, Tokyo, Japan - Feb. 23, 1984) (3:39)
3. Good Hearted Woman (Live at Budokan, Tokyo, Japan - Feb. 23, 1984) (3:08)
4. Down Yonder (Live at Budokan, Tokyo, Japan - Feb. 23, 1984) (1:46)
5. If You've Got The Money I've Got the Time (Live at Budokan, Tokyo, Japan - Feb. 23, 1984) (1:59)
6. Workin' Man Blues (Live at Budokan, Tokyo, Japan - Feb. 23, 1984) (3:17)
7. Help Me Make It Through the Night (Live at Budokan, Tokyo, Japan - Feb. 23, 1984) (3:34)
8. Me and Bobby McGee (Live at Budokan, Tokyo, Japan - Feb. 23, 1984) (3:12)
9. Loving Her Was Easier (Than Anything I'll Ever Do Again) (Live at Budokan, Tokyo, Japan - Feb. 23, 1984) (5:15)
10. Harbor Lights (Live at Budokan, Tokyo, Japan - Feb. 23, 1984) (3:41)
11. Blue Eyes Crying In the Rain (Live at Budokan, Tokyo, Japan - Feb. 23, 1984) (3:00)
12. Under the Double Eagle (Live at Budokan, Tokyo, Japan - Feb. 23, 1984) (2:47)
13. Blue Skies (Live at Budokan, Tokyo, Japan - Feb. 23, 1984) (3:21)
14. Georgia On My Mind (Live at Budokan, Tokyo, Japan - Feb. 23, 1984) (3:35)
15. All of Me (Live at Budokan, Tokyo, Japan - Feb. 23, 1984) (2:35)
16. Stardust (Live at Budokan, Tokyo, Japan - Feb. 23, 1984) (4:31)
CD2
1. My Heroes Have Always Been Cowboys (Live at Budokan, Tokyo, Japan - Feb. 23, 1984) (1:24)
2. Mammas, Don't Let Your Babies Grow Up to Be Cowboys (Live at Budokan, Tokyo, Japan - Feb. 23, 1984) (2:45)
3. Angel Flying Too Close to the Ground (Live at Budokan, Tokyo, Japan - Feb. 23, 1984) (3:44)
4. On the Road Again (Live at Budokan, Tokyo, Japan - Feb. 23, 1984) (2:23)
5. Always On My Mind (Live at Budokan, Tokyo, Japan - Feb. 23, 1984) (3:26)
6. Will the Circle Be Unbroken (Live at Budokan, Tokyo, Japan - Feb. 23, 1984) (2:29)
7. Only Daddy That'll Walk the Line (Live at Budokan, Tokyo, Japan - Feb. 23, 1984) (1:42)
8. Who'll Buy My Memories (Live at Budokan, Tokyo, Japan - Feb. 23, 1984) (4:02)
9. Till I Gain Control Again (Live at Budokan, Tokyo, Japan - Feb. 23, 1984) (5:30)
10. Without A Song (Live at Budokan, Tokyo, Japan - Feb. 23, 1984) (3:17)
11. Luckenbach, Texas (Back to the Basics of Love) (Live at Budokan, Tokyo, Japan - Feb. 23, 1984) (1:58)
12. Whiskey River (Reprise) (Live at Budokan, Tokyo, Japan - Feb. 23, 1984) (3:25)
13. Only Daddy That'll Walk the Line (Reprise) (Live at Budokan, Tokyo, Japan - Feb. 23, 1984) (2:06)
DOWNLOAD
rapidgator.net
:
Please Login or Register to see this code
nitroflare.com
:
Please Login or Register to see this code